September 10 - December 4, 2011
"Here and Now: Prints, Drawings, and Photographs by Ten Philadelphia Artists"
Berman/Stieglitz Gallery, Philadelphia Museum of Art
Curator: Innis Shoemaker
I am so excited to be part of this exhibition! Each of the other artists is wonderful and to show with them in the Philadelphia Museum of Art is an honor. The Museum will present two of my works. The first is the eight prints that make up the 2006 Amman Portfolio, last exhibited in Philadelphia at The Print Center. This was the first set of portraits that I did of Iraqi torture victims, and it is a very moving and powerful set of prints. The second work is a new, paper version of When Photographers are Blinded, Eagles' Wings are Clipped, a print on plywood version of this piece that has been one of the central parts of my nationally touring show "Bearing Witness." This paper version, I think, is even more powerful, and I hope that you can see it.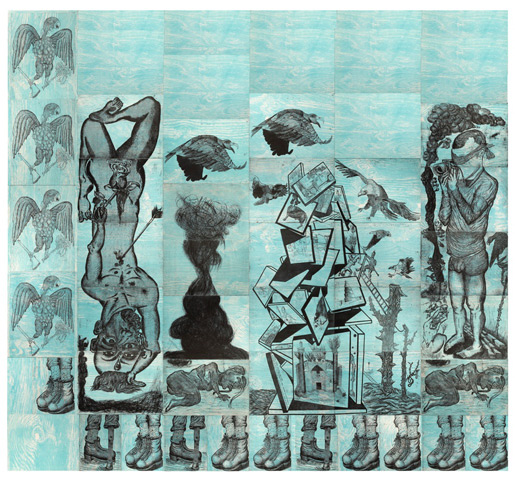 When Photographers Are Blinded, detail, relief and etching on paper, 102x138, 2010
Although I was misquoted (a bit), I was happy to see a piece in the Philadelphia Daily News about the exhibition.